100% organic - biodegradable, compostable  and fertilizing the soil, in accordance with the EU standard EN 13432: 2000 and in accordance with the EU directives 94/62 / EU and 2015/720.
Reusable, strong with a good elasticity, intended to be used several times (10-12) before composting.
Manufactured on the basis of renewable sources - potato and vegetable starch using the BIOCARTENE® and SIPABIO® technology.
Compostable under normal environmental conditions (up to 90 days in a organic sector). Can be composted with food waste - becomes a natural part of the ecological life cycle.
Even the dyes for the print are 100% organic and harmless to nature
Easy to open, user-friendly and of course anti-static.
Lifespan - not limited until they fall into the earth.
 Shopping bags
Type "vest" with handles, with or without "hangers"
Type "Smile"  without additional reinforcement of the handle
Wide range of designs, sizes in reasonable thickness and quantity
High quality print - including special printing up to 8 colors
* An exceptional addition and tool to your promotional activities, meeting the needs of traditional and impulse retail, technical, toy, bookstore and pharmaceutical industry needs.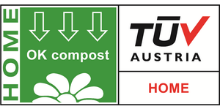 Complete biological degradation of the material at humus level under compost conditions (2 mm size) and compost safety test. The partner for a better and green world ...